Trial of Jack McCall – Masonic Temple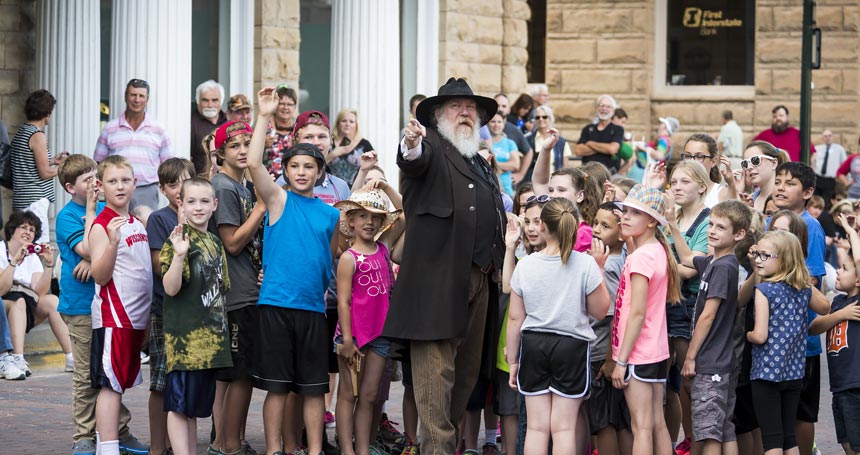 The Trial of Jack McCall & Main Street Shootouts won't be back until summer 2020, but visitors to Deadwood can still enjoy FREE Main Street Shows and Stagecoach rides (for a fee) on Fridays & Saturdays!
SPRING 2020 SCHEDULE
Deadwood's Historic Main Street
Free Shows and Tours!
March 20 – May 16, 2020
Fridays and Saturdays
12:00 – "Lawman's Patrol" – Walking Tour $15 per person.  Call 1-800-344-8826 to book this tour. Must book 24 hours in advance.
1:00 – "Gold, Guns and Grubstake" – (the evolution, history and use of pre-1899 firearms) – at Outlaw Square
2:00 – SHOOTOUT – "A Shooting Affray" – at Outlaw Square
2:30 – "Freight and Food" (learn about freighting to the Black Hills and the surprising foods the early residents ate) – at Outlaw Square
3:00 – "Old west tales" and "Dress for Success" (kids, dress your parents up in clothing of old Deadwood) – at Outlaw Square
4:00 – SHOOTOUT – "Showdown on Gold Street" – at Outlaw Square
4:30 – "Meet the Gunslingers" (meet the Deadwood Alive actors, hear their stories and ask all the questions you have always wanted to) – at Outlaw Square
12:00 P.M. – 5:00 P.M. Stagecoach boards in front of the Celebrity Hotel every half hour starting at 12:00 P.M. (weather permitting)
For more information please contact Andy "Cookie" Mosher at 605-920-0258.
DEADWOODALIVE.COM
---

*Summer 2020 schedule coming soon!*
Trial of Jack McCall – 8pm, Monday through Saturday! 
During the summer: Six nights a week (no show on Sundays) – Memorial Day weekend through September 21, 2019. Witness the infamous trial of the man who killed Wild Bill Hickok. General admission for Trial. Street shows are free.
1:45 – "True Tales of Deadwood" – Location TBD
2:00 – SHOOTOUT! – The Strange Tale of David Lunt – In front of the Celebrity Hotel and Oyster Bay
2:30 – A Rootin' Tootin' Card Game for Kids and Old-Thyme Musical Show – Both in front (or inside) of Mustang Sally's
3:30 – "Dr. Stan Dupt's Travelin' Medicine Show" – Old west hilarity in front of Mustang Sally's
4:00 – SHOOTOUT! – Showdown on Gold Street – Exciting true history in front of the Buffalo/Bodega & Saloon 10
4:30 – "Old-Thyme Hoe Down" – Acoustical melodies of the Old West – Indoors in the back of the Bullock Hotel
5:45 –  "True Tales of Deadwood" – on the steps of the Historic Franklin Hotel
6:00 – SHOOTOUT! – The Boone May/Prescott Web Altercation; True Deadwood history colorfully comes alive in front of the Silverado & Historic Franklin Hotel
7:35 – The Historic Capture of Jack McCall – in front of the Saloon No. 10
7:50 – Old-Thyme Musical Show – Don't miss this old-thyme musical prelude to the World-famous "Trial of Jack McCall" – inside the Masonic Temple
8:00 – LEGENDARY TRIAL OF JACK McCALL – Inside the Masonic Temple – The internationally renowned,  longest running, Old West stage show in the world! This is a family-friendly show where the selected members of the audience participate in the performance serving as jurors in the trial.  The show is held nightly Monday through Saturday with the schedule as outlined below. There is a nominal fee for the show. Tickets can be purchased by using the calendar on the bottom of this page or by calling 1-800-344-8826. $6 Adults, $5 Seniors and $3 Children ages 5-15. Advance "Trial" tickets are highly suggested but usually not a necessity.
PLEASE NOTE: FROM JUNE 29 – AUGUST 1 ALL MAIN STREET SHOWS WILL BE IN FRONT OF THE SILVERADO-FRANKLIN AT 709 MAIN STREET. THERE WILL BE NO MAIN STREET SHOOTOUTS OR TRIAL OF JACK MCCALL DURING THE WEEK OF THE RALLY (August 2-11, 2019).
The schedule is modified or suspended during special events that require street closures including: Wild Bill Days, the Sturgis Rally (August 2 – 11) and Kool Deadwood Nites. For detailed information visit: http://www.deadwoodalive.com/daily-activities/street-closures
For more information email andy@deadwoodalive.com.
715 Main Street
Deadwood, SD 57732