Trial of Jack McCall – Masonic Temple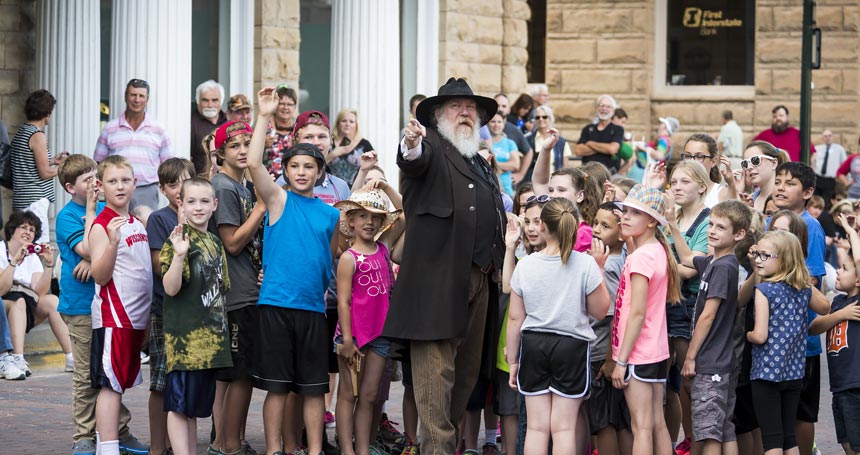 Trial of Jack McCall – 8pm, Monday through Saturday! 
During the summer: Six nights a week (no show on Sundays) – Memorial Day weekend through Labor Day. Witness the infamous trial of the man who killed Wild Bill Hickok. General admission for Trial. Street shows are free.
1:45 – "Calamity Jane's 'True' Tales" – under the portico at Tin Lizzie
2:00 – SHOOTOUT! "David Lunt Affair" – in front of Tin Lizzie
2:30 – An Old West Card Game for Kids and "The Dover Brothers Old-thyme Musical Show" – both shows in front of Mustang Sally's
3:30 – "Dr. Stan Dupp's Medicine Show" – It's hilarious! – in front of Mustang Sally's
4:00 – SHOOTOUT! "The Turkey Creek Altercation" – exciting, true history in from of the Celebrity Hotel/Oyster Bay. The #1 gunfight in the West
4:30 – "The Colorado Charlie Utter Show" – a great blend of old Deadwood history and acoustic period music by the Dover Brothers. Indoors, inside the Bullock Hotel
5:45 –  "Calamity Jane's 'True' Tales" – on the steps of the Franklin Hotel
6:00 – SHOOTOUT! "The Boone May/Prescott Web Altercation" – amazing, true Deadwood history colorfully comes alive in front of the Silverado-Franklin Hotel
7:35 – The historic "Capture of Jack McCall" – in front of the Saloon No. 10
7:45 – The Dover Brothers Pre-Trial Old-thyme Musical Show – don't miss this hilarious, old-thyme musical prelude to the "Trial of Jack McCall" – inside the Masonic Temple
8:00 – The legendary "TRIAL OF JACK McCALL" – inside the Mason's. The internationally renowned, longest running Old West stage show in the world! "Trial" prices: $6.00-adults, $5.00-seniors, $3.00 children ages 5-15 – Advance tickets are highly suggested but usually not a necessity.
PLEASE NOTE: FROM JUNE 29 – AUGUST 1 ALL MAIN STREET SHOWS WILL BE IN FRONT OF THE SILVERADO-FRANKLIN AT 709 MAIN STREET. THERE WILL BE NO MAIN STREET SHOOTOUTS OR TRIAL OF JACK MCCALL DURING THE WEEK OF THE RALLY (August 2-11, 2019).
The schedule is modified or suspended during special events that require street closures including: Wild Bill Days, the Sturgis Rally (August 2 – 11) and Kool Deadwood Nites. For detailed information visit: http://www.deadwoodalive.com/daily-activities/street-closures
For more information email andy@deadwoodalive.com.
715 Main Street
Deadwood, SD 57732