VFW Post 5969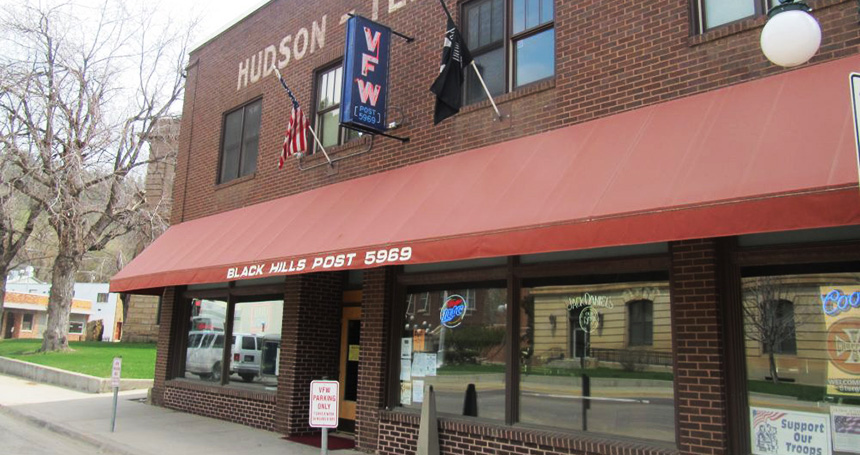 The Deadwood VFW is open from 9:30 a.m. to 12:00 a.m., daily. The bar has a full liquor license and nickel, quarter and dollar slots.
Deadwood VFW Post 5969 History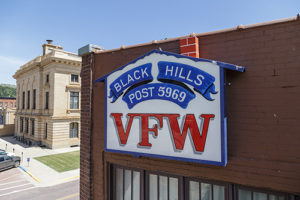 The Deadwood VFW is chartered as a subordinate unit of the Veterans of Foreign Wars of the United States which is headquartered in Kansas City MO.
Veterans of Foreign Wars, Black Hills Post 5969, Inc. was chartered on February 24,1946, and located in Deadwood SD. It's auxiliary, known then as the "Ladies Auxiliary", was chartered on November 7, 1946. Beginning in 2016 the "Auxiliary" was opened for male applicants who qualified for membership and the unit name was changed to reflect this.
The VFW post is located at 10 Pine Street in Deadwood and has been at this location since 1965. Prior to 1965 the Post could be found on Lee St. in Deadwood where the current Holiday Inn Express is located. The VFW was one of many businesses located in that block.
In 1994 plans were made to restore the façade of the building to the original appearance. Work was completed in early 1995 and now represents how the building looked when first constructed in 1937. At that time Ahmed Etem purchased the property from the Chicago and North Western Railroad Company and opened a Hudson/Terraplane dealership. In the mid '40s the property was sold to Jake Cope who later used the building for a grocery market. Black Hills Post 5969 purchased the property from the Cope estate in October 1964 .
The VFW's Mission is: To foster camaraderie among United States veterans of overseas conflicts. To serve our veterans, the military and our communities. To advocate on behalf of all veterans.
10 Pine Street
Deadwood, SD 57732