1876 Mystery Dinner Theater – One of a Kind Deadwood Entertainment!
1876 Mystery Dinner Theater
1876 Mystery Dinner Theater offers an evening of comedy entertainment centered around the unique characters and themes (murders and misadventures) of Deadwood in its early rowdy days.  Hosted at the Holiday Inn Express on Historic Main Street, you'll experience an unforgettable night of delicious food and hysterical, slightly historical fun!
We offer the most delicious buffet in the entire Black Hills catered by the renowned Cheyenne Crossing Restaurant, accompanied by the live music of Mr. Marvin Barry followed by the unveiling of the murder.  Afterward, everyone gets a guess at the killer with the correct guesses put in a hat for a drawing to win a bottle of Prairie Berry wine!
The Holiday Inn Express is located on the corner of Lee and Main Streets and also houses the 777 Casino.  Check out the hotels luxurious rooms and comfortable surroundings with great proximity to the action on Main Street.
*ALL 2020 SHOWS ARE CANCELED DUE TO COVID-19. PLEASE CHECK BACK FOR 2021 SHOWS.*
Purchase tickets at www.Deadwood1876Theater.com OR Call 605-580-5799
THE MURDER OF MISS KITTY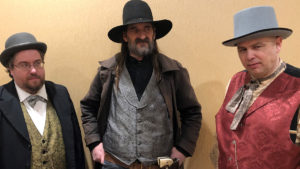 Summer 2020 Shows Canceled Due to COVID-19
THE DEATH OF DAN DORITY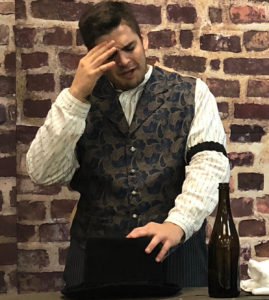 Fall Shows Canceled Due to COVID-19
NEW YOUTUBE SERIES – COMING SOON!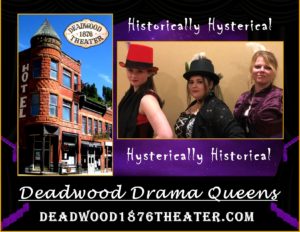 DEADWOOD DRAMA QUEENS (YouTube series)
1st Story "The Birth of a Cathouse" (8 episodes)
---
22 Lee Street, Deadwood, SD 57732