Black Hills Wild Horse Sanctuary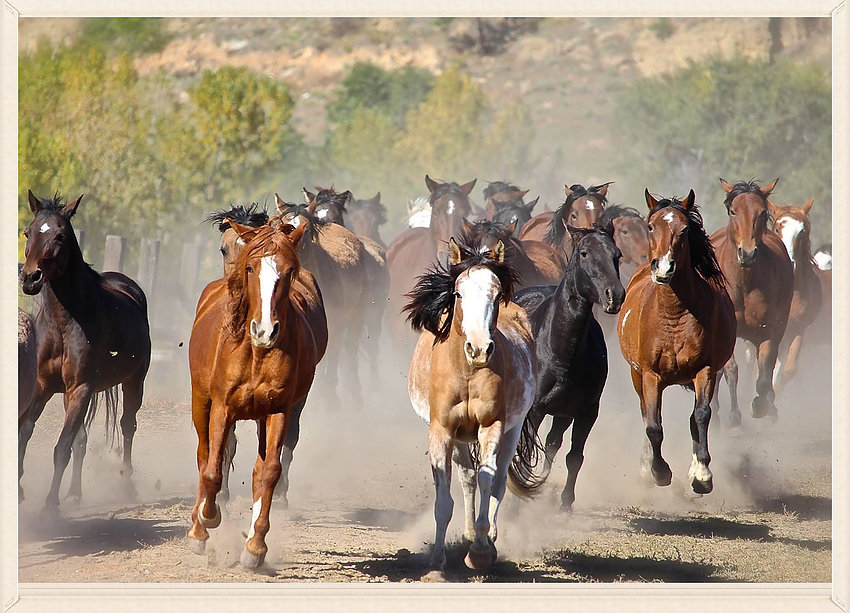 Black Hills Wild Horse Sanctuary -One of the Greatest Private Wilderness Areas in America!
IMAGINE
Imagine a place where as far as the eye can see, miles and miles to the horizon, you can view America as it was 300 years ago. Imagine a place, long revered by the American Indians, where the Cheyenne River flows in all four directions and eagles' shadows sweep rocky canon walls, a place where wild horses run free across endless prairies, hooves striking thunder, manes and tails flying in the wind.
Come to the Black Hills Wild Horse Sanctuary, experience the dream, visit their grassland home of rocky canyons, wind swept prairies, and dark pine forests, a home they share with coyotes, cougar, white-tail and mule deer, elk wild turkeys, eagles and falcons. A home where hundreds of wild horses not only live but flourish, nurtured by the dream of a man of vision, and the freedom he gave them. The Sanctuary has given the wild horses that make their home there over 10,000 years of horse freedom.
Come and take pride in what you have become a part of. Enjoy the herds of sleek, healthy mustangs running where wild flowers bloom in profusion, and the sky goes on forever.
IMAGINE
Dayton O Hyde
Tours available: Two Hour Guided Bus Tour
Three Hour Viewing Tour
Tour Highlights
Travel by vehicle with a special guide
Experience wild horses up close and personal
View Ancient Petroglyphs
Visit Native American Ceremonial Sites
Learn Wild Horse and Pioneer History
Hear the story of Crazy Horse and Hildalgo movies
Learn about the Coffee Flats One Room Schoolhouse
Wild Horse Cafe – Enjoy a delicious breakfast or lunch with the most scenic view in the Black Hills.
Nightly Lodging available Rustic Log Cabin sleeps 1-4