Soaring Eagle Zip Ride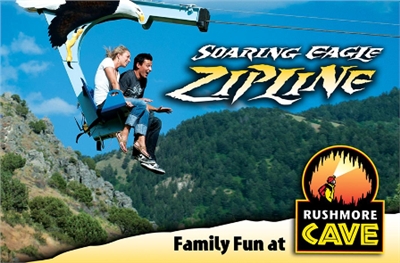 Soar through the air like an eagle on the areaês only zipline attraction. This family-friendly attraction lets you experience the sensation of flying, while accelerating 630 feet down the mountainside on a suspended cable. You can even share the fun with a friend on the comfortable side-by-side seats.
Soaring Eagle Zipline logo
The excitement doesnêt end at the bottom though, because this unique ride then pulls you back up the hill. One unique fact about this zipline is that it is not a hanging harness system. You will sit in a formed seat with a seat belt, which allows riders of all ages to share in the excitement!
Purchase tickets for just the zipline, or buy it at a discount as a part of a package with your cave tour ticket.
Fun for all ages! Must be 42" tall to ride. Maximum weight limit cannot exceed 450lbs.
13622 Hwy 40
Keystone, SD 57751