Trial of Jack McCall – Masonic Temple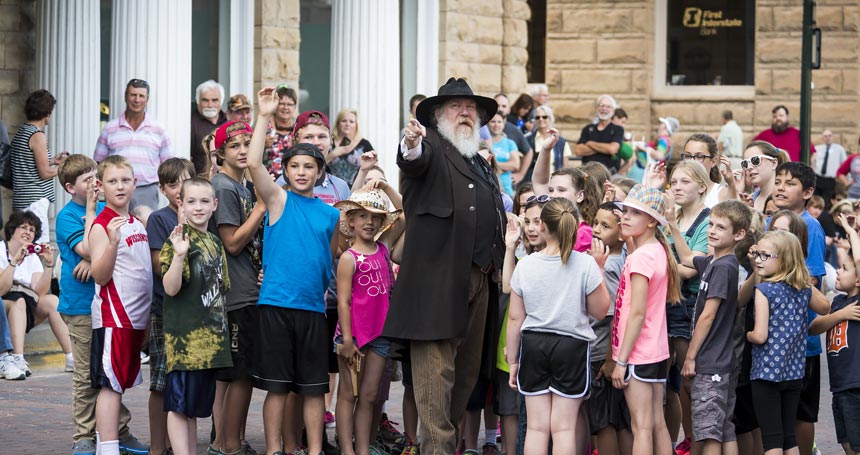 Trial of Jack McCall – 8 p.m., Monday through Saturday! 
During the summer: Six nights a week (no show on Sundays or during certain special events) – June 22 through September 26. Witness the infamous trial of the man who killed Wild Bill Hickok. General admission for Trial. Street shows are free.
History at its finest…and most fun!
Deadwood – True West Magazine's "Best Old West Gunfighter Town"
The Deadwood Alive troupe is here to entertain. From Main Street Deadwood shoot-outs to guided walking tours, there's something for all guests to enjoy, year-round. Read on for more info!
DEADWOOD ALIVE
HISTORIC MAIN STREET, DEADWOOD
FREE SHOWS AND THE TRIAL OF JACK MCCALL!
Monday – Saturday •  June 22nd – September 26th
No shows on Sundays
Shows subject to change to meet COVID-19 measures
SUMMER 2020 SCHEDULE
1:45 p.m. – "Old West Tales" – Oyster Bay
2:00 p.m. – SHOOTOUT! – The Strange Tale of David Lunt – In front of the Celebrity Hotel and Oyster Bay
2:30 p.m. – "Gold, Guns and Grubstake" – (the evolution, history and use of pre-1899 firearms) – at Outlaw Square gazebo
4:00 p.m. – SHOOTOUT! – Showdown on Gold Street – Exciting true history in front of the Buffalo/Bodega & Saloon 10
4:30 p.m. – "Dress for Success" (clothing of old Deadwood) – at Outlaw Square gazebo
5:45 p.m. –  "Old West Tales" – Franklin Hotel
6:00 p.m. – SHOOTOUT! – The Boone May/Prescott Web Altercation – True Deadwood history colorfully comes alive in front of the Silverado & Historic Franklin Hotel (Outlaw Square stage on Thursdays for Deadwood History Family Nights)
7:35 p.m. – The Historic Capture of Jack McCall – in front of the Saloon No. 10
8:00 – LEGENDARY TRIAL OF JACK McCALL – Inside the Masonic Temple – The internationally renowned,  longest running, Old West stage show in the world! This is a family-friendly show where the selected members of the audience participate in the performance serving as jurors in the trial.  The show is held nightly Monday through Saturday with the schedule as outlined below. There is a nominal fee for the show. Tickets can be purchased by using the calendar on the bottom of this page or by calling 1-800-344-8826. $6 Adults, $5 Seniors and $3 Children ages 5-15. Advance "Trial" tickets are highly suggested but usually not a necessity.
*Deadwood Alive Shootout Schedule change for first week of August
With Bike Parking beginning on Main Street on August 2, there is a slight alteration to the schedule for the gunfights. Changes are as follows:
Monday, August 3: Gunfights will take place on the Outlaw Square Stage at 2 p.m., 4 p.m., 6 p.m.
Tuesday, August 4: Gunfights will take place in front of the Franklin at 2 p.m., 4 p.m., 6 p.m.
Wednesday August 5: Gunfights will take place in front of the Franklin at 2 p.m., 4 p.m., 6 p.m.
Thursday August 6: Gunfights will take place on the Outlaw Square Stage at 2 p.m., 4 p.m., 6 p.m.
For more information please contact Andy "Cookie" Mosher at 605-920-0258.
DEADWOODALIVE.COM
STAGECOACH RIDES
Mondays – Saturdays (No stagecoach on Sundays)
1:00 p.m. – 6:00 p.m.
Adults $10, Children $5 (ages 3 – 12). Limited Seating, family units or couples
MASKS ARE NOW REQUIRED to allow multiple traveling parties to ride together. For those without a mask, disposable masks available for $1 more per rider/ticket or a Deadwood Alive branded bandana for $3 more per rider/ticket.
*Please note – Stagecoach will NOT be operating during the following dates:
July 21 – 26, 2020
August 2 – 16, 2020
August 26 – 30, 2020
September 18 – 20, 2020
In the instance of extreme weather, stagecoach service will be suspended
The shooting of Wild Bill Hickok is held daily inside the Saloon No. 10 at
1:00 PM, 3:00 PM, 5:00 PM, and 7:00 PM
During special events some Deadwood Alive Shows and Stagecoach rides are not offered. Please visit DEADWOODALIVE.COM.
715 Main Street
Deadwood, SD 57732