Trial of Jack McCall – Masonic Temple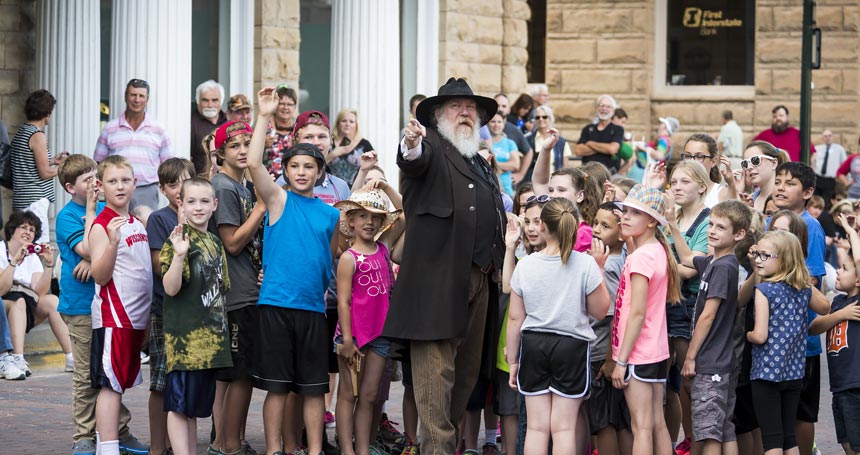 The Trial of Jack McCall is seasonal and will return to its schedule May of 2021. Deadwood Alive's re-enactment troupe is now offering the following services…
History at its finest…and most fun!
Deadwood – True West Magazine's "Best Old West Gunfighter Town"
The Deadwood Alive troupe is here to entertain. From Main Street Deadwood shootouts to guided walking tours, there's something for all guests to enjoy, year-round. Read on for more info!
DEADWOOD ALIVE
HISTORIC MAIN STREET, DEADWOOD
FREE SHOWS!
Fridays & Saturdays • October 2nd – November 21st, 2020
Shows subject to change to meet COVID-19 measures
12:00 PM "Lawman's Patrol" Walking tour $15 per person, call 1-800-344-8826 to book this tour. Must book 24 hours in advance.
1:00 PM "Gold, Guns, and Grubstake" (the evolution of pre-1900 firearms) – Outlaw Square
2:00 PM SHOOTOUT! "A Shooting Affray" – Outlaw Square
2:30 PM "Freight and Food" Learn about freighting to the Black Hills and the surprising foods the early residents ate – Outlaw Square
3:00 PM "Old West Tales" and  "Dress for Success" (the clothing of old Deadwood) – Outlaw Square
4:00 PM SHOOTOUT! "Showdown on Gold Street" – Outlaw Square
4:30 PM "Meet the Gunslingers" Meet the Deadwood Alive actors, hear their stories and ask any questions you want to – Outlaw Square
STAGECOACH RIDES
Fridays & Saturdays • October 2nd – November 21st, 2020 • 12:00 PM – 5:00 PM
*WEATHER PERMITTING
Adults $10, Children $5 (ages 3 – 12). Limited Seating, family units or couples.
Stagecoach boards in front of the Celebrity Hotel every half hour starting at Noon (weather permitting!)
MASKS ARE NOW REQUIRED to allow multiple traveling parties to ride together. For those without a mask, disposable masks available for $1 more per rider/ticket or a Deadwood Alive branded bandana for $3 more per rider/ticket.
The shooting of Wild Bill Hickok is held Monday through Saturday throughout October inside the Saloon No. 10 at
1:00 PM, 3:00 PM, and 5:00 PM
For more information email andy@deadwoodalive.com.
Please visit DEADWOODALIVE.COM.
715 Main Street
Deadwood, SD 57732