Carsten Cottages, Bunkhouse and Stables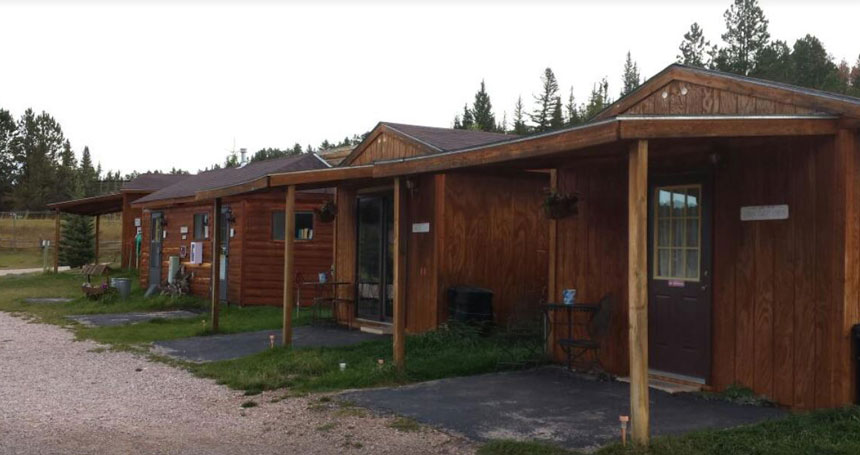 Carsten Cottages – Camping in the Black Hills
Carsten Cottages makes camping in the Black Hills a thing of comfort and ease by providing access to tents, tent sites, cabins, and RV sites; anything to meet your Black Hills camping needs! Carsten Cottages is located just south of the Dumont Trailhead on Rochford Road in the Black Hills, near Lead, South Dakota. It has direct access to the Mickelson Trail for snowmobiling, horseback riding, mountain biking, and hiking. It is open year-round and caters to winter enthusiasts, as Terry Peak Ski Area is just minutes away. Horse boarding is also available!
Our History:
Bulldog Ranch on the west side of the trail was once a stagecoach station, run by Mrs. Bulldog, on the Custer to Deadwood line. Local artist Jon Crane has painted a picture of this site. The Bulldog Ranch was not only a stagecoach station but also a bootlegger's depot and an inn.
Dumont was named for an early French settler named Charles Dumont. The town was founded in 1890 as a lumber town and a shipping point for cattle. There was a railroad section house here. A spur of the Railroad line went northwest to Hanna. Through the years the industries faded away.
Campsites, Cabins, and RV spots:
3 full-service RV hook-ups, 1 with water and electric

Central clean out available
all sites 30/50 amps

Tent sites
Bunkhouses
Campsite Amenities:
Shower house with towels and soap provided
Washer and dryer in shower house
Tent rentals
Video library
BBQ grill
Horseshoe Pit
Volleyball
Croquet
Grocery Shuttle Service ($10 fee)
Cabin Amenities:
Microwave
Refrigerator
Toaster
Electric skillet
Coffee pot
TV/VCR
Wifi
The Pavilion is also available and is fully stocked with cooking supplies, pots, pans, BBQ supplies, and more — it's a great place for group gatherings!
Locally owned and operated!
21981 N. Rochford Road
Lead, SD 57754