Historic Adams House and Mount Moriah Cemetery Tour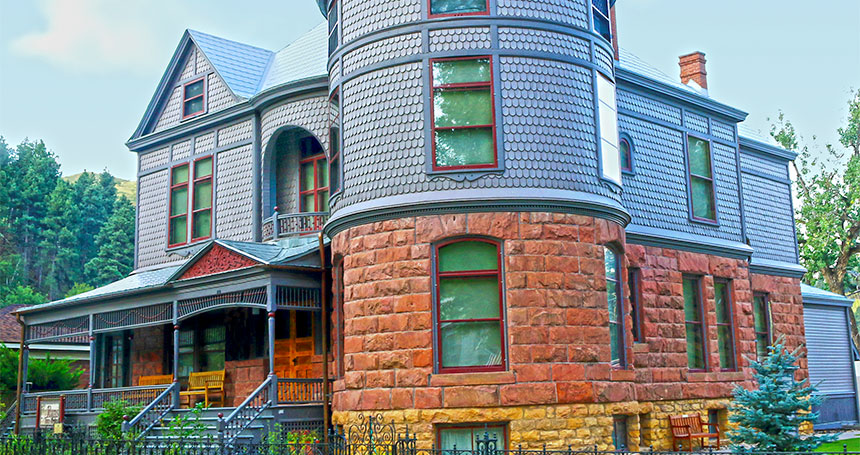 Fans of history, architecture and historic cemeteries will tour the Historic Adams House and Mount Moriah Cemetery. The Adams House is an 1892 Queen Anne-style historic home with oak interiors, hand-painted canvas wall coverings, stained glass windows, thoroughly modern 19th century plumbing, electricity, and telephone service. Built by Harris and Anna Franklin, visitors will relive the triumphs and tragedies of two of Deadwood's founding families. W.E. Adams purchased the home in 1920, and after his death in 1934, Adams' second wife, Mary, closed the doors leaving all of the original contents intact
Be sure to leave your boots on when you board Boot Hill Tours to visit Deadwood's famous Boot Hill: Mount Moriah Cemetery. See the graves of Wild Bill Hickok, Calamity Jane, Potato Creek Johnny, Madam Dora DuFran, Seth Bullock, and other graves of Deadwood's famous and infamous characters. Our trip through the cemetery will include such points of interest as the Chinese section, Potters Fields, Hebrew Hill where Harris and Anna Franklin are buried, a memorial stone to W.E. Adams, and a Civil War veterans section. As we travel through the cemetery, riders will have a bird's-eye view of Deadwood and the Homestake Mine shaft. The tour is narrated by long-time Black Hills residents and historians and includes a multimedia presentation with historic photos and music.
Cost: $17pp
Minimum: 10 | Maximum: 16 (max per group subject to change)
Approximate length: 75 minutes
Availability: May through October, weather dependent. Call 605-722-4800 to book this tour. This tour requires walking, long periods of standing and navigating stairs. Must book 48 hours in advance.