Holiday Inn Express, Deadwood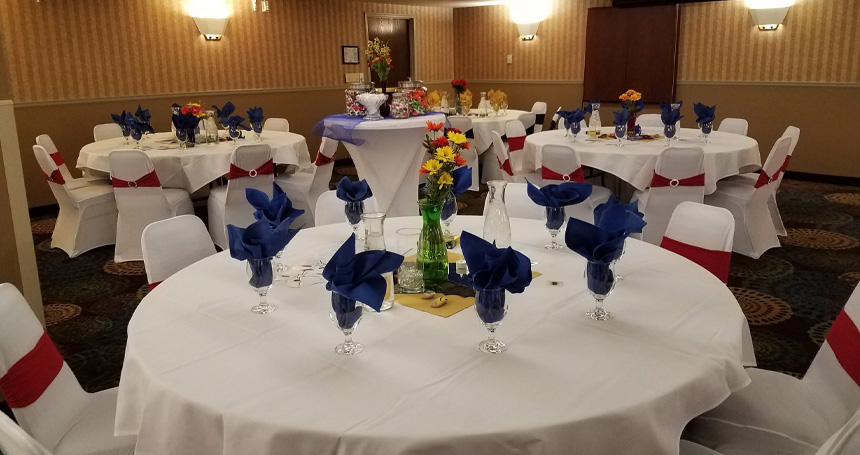 Holiday Inn Express, Deadwood – Weddings
$1,000 Main Street Wedding Reception – includes the full wedding set up!
Private level at the Holiday Inn Express. Fully set up for up to 140 guests featuring a skirted bridal head table with white lights underneath. Wedding reception tables will have white linens and your choice of two napkin colors. DJ table and dance floor set up for the bride and groom to have their first dance! Wedding cake table, guest registration and wedding gift table are all skirted in white. Cash party bar with full liquor set up included in price. We are located just one block from the Outlaw Square where you can actually get married right on Main Street!  Ask for details.
The Holiday Inn Express is located right next door to the Saloon #10 so when the dance is done head over for one more! Bride, groom, bridesmaids, and groomsmen all love pictures taken at the Saloon #10.
Off season the Holiday Inn Express Reception Hall is catered by local favorite Mavericks Steak and Cocktails. Peak season you are able to bring in your own food to the Holiday Inn Express wedding hall or select from local caterers. We also have the Hotel by Gold Dust next door for even more hotel room options. Want to have a rehearsal dinner?  Mavericks Steak and Cocktails features a private party balcony that can host up to 70 guests. When you plan your wedding on Main Street Deadwood be sure to talk to Michelle Patino, Director of Sales at 605-580-1629. She is the leading wedding planner in Deadwood – experienced and connected with officiants, flower shop owners, photographers, DJs, cake decorators, musicians, hair & nails, shuttle operators and decorators.