May 10, 2019 - May 10, 2019
Join us at the Sanford Lab Homestake Visitors Center, 160 W. Main St., Lead, SD on Friday, May 10 from 5 – 7 p.m. for the 10th Annual Wine Tasting & Auction.
It's amazing what ten years, Chip's truffles, and good intentions can do. Ten years ago we started indulging in great food and festivities with friends, while raising funds for our favorite library. To celebrate this milestone, we plan to throw the best Wine Tasting and Auction Fundraiser to date, and we'd like your help!
Mark your Calendars!
To date, we've raised over $60,000! AND, this was all done by and for our fantastic library community. Can you help us in the movement to be the best library west of the Appalachians?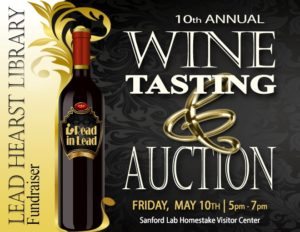 Event Contact Information
Email:
library@cityoflead.com
Phone:
605-584-2013