July 26, 2022 - July 26, 2022
 Brulé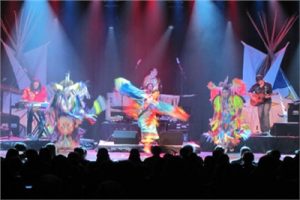 In recognition of the 100th Anniversary of the Days of '76 Celebration & Rodeo, Outlaw Square is proud to present live on the Sue Lundberg Memorial Stage the sounds of Brulé on Tuesday, July 26 at 8 pm!
This is a FREE CONCERT for all to come and enjoy this fantastic show as it kicks off our Paths Sapa Cowboys & Indian Western Art & Jewelry show.
The group is one of the top-selling Native American adult/rock music groups and has chalked up impressive CD sales (over 1 million worldwide). Brulé has released 21titles in 20 years and has been named "Group of the Year" five times by the prestigious Native American Music Awards, earning seven NAMMYs since 2002. Their annual performance schedule takes them extensively throughout the U.S., touring the casino, performing arts theatre, arena, corporate and festival circuits.
A Big Thank You to the Deadwood Roadhouse and The Deadwood Mountain Grand for their sponsorship.
Again Brulé is a FREE show starting at 8 pm on July 26th, bring your lawn chair and enjoy a great night of music at Outlaw Square! No chairs before 5pm.
Ticket Information
Ticket Information:
FREE CONCERT