September 4, 2020 - September 4, 2020
Friday Night Double Feature Movie Night at Outlaw Square
Outlaw Square is kicking off Labor Day Weekend with a special Friday Night Double Feature Movie Night!
Friday, September 4 at 6:15 p.m. – completely FREE at Outlaw square!
The first film showing is "Beast from the Haunted Cave" which focuses on the Broken Boot Gold Mine and was filmed right here in 1959.
The second is the classic "Close Encounters of the Third Kind" featuring everyone's favorite land mark, Devil's Tower
– don't be surprised if you see a few aliens around!
Bring your lawn chairs, blankets – even snacks or dinner – and come enjoy 2 fun movies on the turf with us at Outlaw Square.
Sponsored by Devils Tower Trading Post.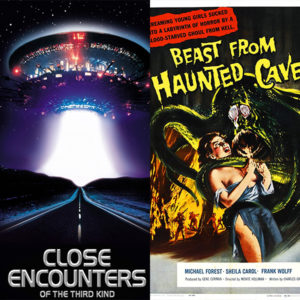 Ticket Information
Ticket Information:
No tickets - FREE event
Event Contact Information
Name:
Bobby Rock
Email:
bobby@deadwood.org
Phone:
6055781876