Mustang Monday Concert Featuring The Kid & Nic Show and Tommy Brandt on the Patron Patio at Deadwood Mountain Grand

August 26, 2019 - August 26, 2019
Help us welcome the Mustang Rally to town with a free concert!  Music begins at 5 p.m with Tommy Brandt followed by The Kid & Nic Show! This event is open to the public, on the Deadwood Mountain Grand Patron Patio.
Book your stay in Deadwood. Mustang Rally packages include attraction and lodging discounts.
Add the following attractions in your Rally package or add them to your itinerary for Deadwood Day!
Deadwood Alive Shootouts, shows and the Trial of Jack McCall are available Monday through Saturday. Stagecoach rides are available Monday, Tuesday, Wednesday, Friday and Saturday (no Thursday or Sunday rides). All other other attractions and activities are available daily. 
Deadwood Alive Re-enactments & Shows: Deadwood Alive has been entertaining visitors for over 20 years with Main Street shootouts and regular performances of the Trial of Jack McCall. The Deadwood Alive troupe consists of over 10 characters which provide entertainment throughout the year including daily shootouts, guided walking tours, musical performances and the famous Trial of Jack McCall.
Main Street Shootouts: During the summer (May 25-September 21), there are three Main Street Shootouts which are historically accurate re-enactments of Deadwood's past performed by Deadwood Alive. They take place three times daily, Monday through Saturday*. The Main Street shootouts are held at 2:00 p.m. in front of Tin Lizzie, 4:00 p.m. in front of the Celebrity Hotel, and 6:00 p.m. in front of the Franklin Hotel. The shoot-outs and re-enactments are FREE to watch.
Adams Museum: Black Hills oldest museum displays artifacts from Deadwood's colorful past & infamous characters such as Wild Bill and Calamity Jane. Museum exhibits capture the mysteries, tragedies, bawdiness & dreams found in the history, art, & natural history of the Black Hills.
Mt. Moriah Cemetery: The final resting place of Wild Bill Hickok, Calamity Jane, Seth Bullock and other Wild West legend. The Cemetery is one of Deadwood's largest historic preservation projects to date.
Historic Adams House: Historic Queen Anne-style house built in 1892 by Deadwood Pioneers Harris and Anna Franklin. The building of this elegant home heralded the transition from rough and tumble gold mining town to a town of more wealth and social prominence.
Trial of Jack McCall: The Trial of Jack McCall for the shooting of "Wild Bill" Hickok. The Capture of Jack McCall is at 7:35PM in front of the Saloon #10 on Deadwood Main Street. The Trial of Jack McCall starts at 8:00PM at the Masonic Building next door to the Silverado Casino on upper Main Street.
Stagecoach Rides: Deadwood Stagecoach 20 minute round trip ride on Deadwood's Historic Main Street with history and information. Meet on the Corner of Main and Wall Streets, across from the Wild Bill Bar. Stagecoach rides are every half hour, Monday-Wednesday, Friday and Saturday weather permitting. Schedule subject to change.* No rides on Sundays or Thursdays.
Days of '76 Museum: This state of the art museum is home of the largest collection of horse-drawn vehicles in South Dakota and the Don Clowser collection of important Old West Pioneer and American Indian artifacts, archives, firearms, & artwork.
Broken Boot Gold Mine: Located on upper Main Street in Deadwood, provides underground tours of an authentic 100-year-old gold mine. Courteous and informed guides show you where miners pursued gold ore veins with black powder and candlelight.
* Schedule is subject to change due to special events and other street closures.
CLICK HERE to view additional live entertainment schedules.
This free event is brought to you by

MUSTANG RALLY
A week long Mustang Rally packed with racing, cruises, a car show and fun events:
Free Concert Monday Night in Deadwood!!
Mustang Racing Events: Autocross, Drag Racing, Barrel Racing, Rodeo.
Take a BFGoodrich Driving Class and learn how to increase your skills.
Burnouts like you have never seen before.
Roll the Dice for a Chance to WIN a NEW MUSTANG !
Mustang Car Show and Shine on Saturday.
From Fun Runs to Poker Runs enjoy the Scenic Cruises.
THE KID & NIC SHOW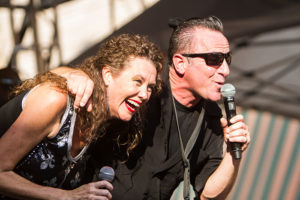 When Nicole (Nic) and Kirk (Kid) Tracy met, they had no idea that their partnership would soon include leading a band together. Nicole was a busy actor who performed Shakespeare, Neil Simon, various musicals, and played a character on the television series Beverly Hills 90210. Kirk was a working saxophonist who played live with The Shirelles, The Ink Spots, Dave Wakeling (The English Beat and General Public), and recorded the Epic Records debut release of the ska group Save Ferris. Although, once they met everything changed. A fun, high energy, interactive show was born that features a cool blend of a wide variety of different music. Since the formation of this husband and wife-led five piece band in 1997, The Kid and Nic Show has performed regularly from the House of Blues stages in Hollywood and Anaheim to clubs, casinos, theaters, festivals and special events across the country. Past tours have taken the show to over 16 states. The Kid and Nic Show has been featured on The Discovery Channel, The Food Networks "Bobby Flay's Food Nation", as well as morning news shows in Minnesota, South Dakota, Nevada and Arizona. Their story has also been told in periodicals across the nation. Songs from Kid and Nic's last release Where You Are There You Is are enjoying regular rotation on radio stations across the nation and around the world! Kid and Nic take their audiences on a trip across the landscape of American music and comedy for a show that provides a lot of laughs, great danceable music and a genuine feeling of joy! Kid and Nic are Kool Deadwood Nites favorites. We can't wait to welcome them to the Mustang Rally!
TOMMY BRANDT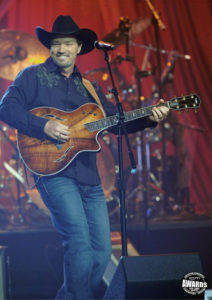 Tommy was born the son of a carpenter, who owned and operated a bar in the small town of Lebanon, IN. He found his passion for country music listening to the jukebox. He jokes, "That was our full time babysitter. "Tommy recalls his favorite song at 5 years old was Charlie Rich's classic "When We Get Behind Closed Doors."
Later the family sold the bar and moved to Florida. That's when Tommy began to hang out more with his Dad. At twelve years old Tommy was nearly six feet tall and could walk into most bars with no questions asked along with his Dad. Through his teenage years the music he listened to took a turn to outlaw country. Influences like Waylon Jennings, Merle Haggard and Hank Williams Jr. kept this rough and rowdy teenager living on the edge most of the time.
At the age of sixteen Tommy left home and began living and working on a large cattle ranch in central Florida. This is where he learned the cowboy way of life. A few years later he joined a local country band as their sound engineer and this is where Tommy's passion for music took root. He began writing songs for the band and learning to play the guitar. The band started gaining notoriety and soon became a popular draw for the locals. Little did he know how these experiences would play a role in his future career and life.
Shortly after, the lead singer of the band decided to move to Nashville to pursue a music career. The band was in a fix now and left without a lead singer. One evening at practice, Tommy offered to fill in until they could find someone. To everyone's surprise including Tommy, he was pretty good. A young 25 yr old who had learned the lyrics to all the songs from traveling with the band for years became the new lead singer. His musical influences soon began to show as he entertained the crowds with high energy and strong vocals. The band sky rocketed into one of Florida's best known country bands known as "New South". His down home humor and smooth country voice melted the hearts of the listeners and soon found its place on country radio. The self penned song "Why, Why, Why" put the band on the charts and opened the doors for larger opportunities.
Just about the time the band was about to peak, unexpectedly, Tommy met his future wife Michelle. This beautiful preacher's daughter rocked his world and began teaching him a Godly way of life. For the first time ever he had some sort of guidance and surprisingly liked it. They began going to church together, having bible study and he began to pull away from the bar and club scene. Tommy eventually left the band. He didn't want to hold them back from pursuing other bookings and opportunities in the clubs, and began pursuing a new direction for his own life.
In 1998, Tommy and Michelle got married and his career as a solo artist began with God leading the way. Using the country sounds that he grew up on, he started penning lyrics that would inspire others to live a good life, a life filled with family values and having Faith in the Lord Jesus Christ. His venues changed from bars and clubs to churches, rodeos, fairs and outreach concerts. It was like he finally put a square peg in a square hole! His rich country voice, honest delivery and smile like none you've ever seen, helps him communicate well with his audience. This down home country boy with real life stories, a heart for God and redneck humor has captured the hearts of fans all over the world.
Tommy is now touring and appearing at more than 150 venues a year. He has become one of the most recognized Inspirational Country singers today. Tommy has shared the stage with country artists such as Keith Urban, Miranda Lambert, Daryl Worley, Little Big Town, Porter Wagner and Roy Clark. He has ministered along side Christian artists Guy Penrod, Del Way, Jason Crabb, Point of Grace, Chonda Pierce and Josh Turner. He has appeared on GAC, CMT, GMC, Sky Angel, Cornerstone Television, TCT Network and many more. Tommy has won 29 major Christian music awards, has had 14 #1 songs on the Inspirational Country Music charts and has been invited to perform on some of the largest stages and churches around the country.