May 3, 2019 - May 4, 2019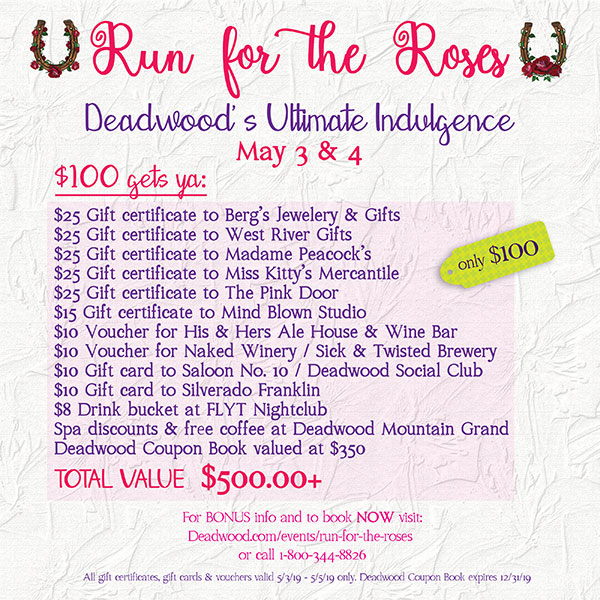 Come to Deadwood for our very own Kentucky Derby event weekend! This is Deadwood's Ultimate Indulgence Weekend with plenty of activities for all to enjoy.
Registration will be held at Saloon No. 10. Registration hours are to be announced. For ticket purchase, please call 800-344-8826.
$100 gets you :
$25 gift certificate at Bergs
$25 gift certificate at West River Gifts
$25 gift certificate at Madame Peacock's
$25 gift certificate at Miss Kitty's Mercantile
$25 gift card at The Pink Door Boutique
$10 voucher for His & Hers Ale House and Wine Bar
$10 voucher for Naked Winery & Sick 'n Twisted Brewery
$15 gift certificate at Mind Blown Studio
$10 gift card at Silverado Franklin
$10 gift card at Deadwood Social Club & Saloon #10
$8 drink bucket at FLYT Nightclub
1 Deadwood coupon book – Save up to $350 on purchases!
Discounts on Mint Julep and Old Fashioned cocktails
Spa discounts and free coffee at Deadwood Mountain Grand
TOTAL VALUE: $200+
ALL GIFT CERTIFICATES MUST BE USED MAY 3-5, 2019
DEADWOOD COUPON BOOK EXPIRES  DECEMBER 31,2019
BONUS! Activities for Ladies and Gents:
*Kentucky Derby Fun! Hat Contest at Saloon No. 10 – Pick up your hat at registration and create your own design with free hat decorations provided by participating Deadwood store locations!
*The Manly Match Up: Send your jockeys to the tru lobby located in Cadillac Jack's from 1-3pm on Saturday for a Foosball Matchup, beer buckets and cigars from Deadwood Tobacco.