Jacobs Gallery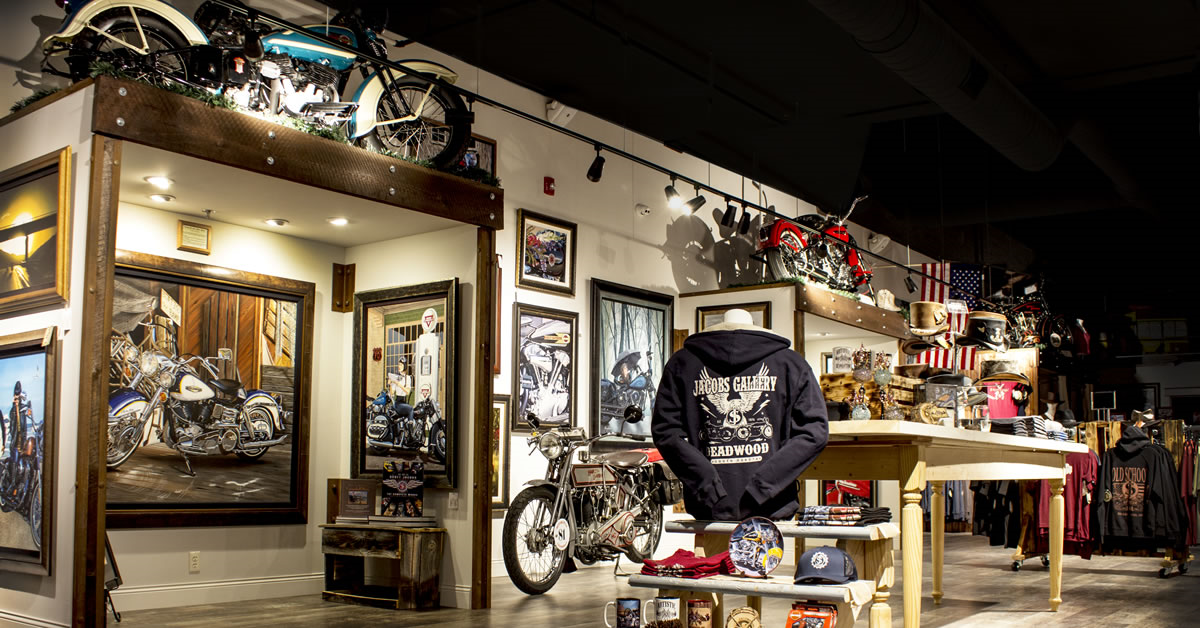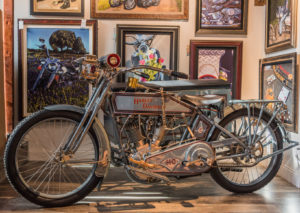 Visit world-famous artist, Scott Jacobs' Fine Art Gallery and Vintage Motorcycle Museum located on Deadwood's Main Street.
Take a tour through one of the most historic buildings in town to learn the unique story of Scott's art career, view creations from local artists and craftsmen, as well as other beautiful pieces from talented minds in the USA.  If you're looking for a one-of-a-kind type of souvenir, we also have an Apparel line that is designed by Scott and his daughter, Olivia.
CLICK to visit the Gallery's website for artist galleries, online hopping and events.
FEATURED ARTISTS
SCOTT JACOBS
Three years after receiving a set of paints from his wife, Sharon, for Christmas, Scott became the first officially licensed Harley-Davidson artist in 1993 after Harley representatives saw his work at an art expo in New York City. He still proudly holds his license as well as many others he's acquired along the way. Licenses including Chevrolet, Ford, Mattel, Marilyn Monroe Estates and Elvis Presley Enterprises.
Although Jacobs drew pen and ink illustrations for his school newspaper, Scott began his career in the art industry not with his painting, but by purchasing a failing gallery at nineteen with money he saved from working odd jobs. At twenty-one, Scott had the cash and customer base to open the doors of Reflections On Canvas in Westfield, NJ; a gallery that was met with much success.
In 2004, Scott and Sharon decided to open Scott Jacobs Studio, their own publishing company.
"The decision to become self-published was the best decision we ever made for our family and our future as a company", said Scott.
In 2016, they moved their operations from CA and opened Jacobs Gallery in Deadwood, SD. You can see original paintings and a large collection of vintage Harley-Davidson's on display in this historic, western town.
Scott's images can also be seen on many objects from limited editions graphics to Franklin Mint Collector Plates, coffee mugs, beach towels, clocks, and many others. In 2010, he released his second coffee table book, The Art of Scott Jacobs — The Complete Works which showcases works as early as the late 80s.
ALEXA JACOBS
Alexa Jacobs was born on November 23, 1991 in Summit, New Jersey. She only lived there for four years before her family packed up and moved to San Diego, California. She grew up in Rancho Santa Fe in a beautiful house with acreage and many animals.
At age 15, she started working part-time for her dad, Scott, as his under-painter. The first time she painted lasted a brief 15 minutes before she was uninterested and ready to move on to her next teen adventure.
Although Scott thought he lost his apprentice forever, Alexa worked on and off for him for the next several years, amongst many other odd jobs, including modeling for Harley-Davidson.
It wasn't until she had eight years of painting experience with her father that she gained enough courage to create some of her own masterpieces. Her first several years painting her own canvases were spent experimenting with many different mediums, subjects, and styles. Although she believes in the world of art you never stop discovering, she is confident she has found her niche.
DANIAL JAMES
Danial James Stuckenschneider was born in Cedar Rapids, IA on November 11, 1966. After graduating high school in Iowa, he moved to Colorado to pursue his art career. He applied for, and won, the only full-ride scholarship to the Rocky Mountain College of Art & Design offered to a high school senior in the U.S. He graduated college in 1987 with an Illustration degree.
In 1989, Danial James met David Uhl and joined Uhl Illustration, bringing with him his skill with an airbrush, attention to detail, craftsmanship and an amazing work ethic. In the ensuing years, Danial witnessed first-hand David's unique approach to illustration, taking a mundane image and transforming it into a compelling work of art. Danial absorbed much of this during that time, applying it to his own work.
In the early 1990s Danial then took Uhl Illustration into a new realm: digital.
He applied the traditional illustration skills to the new tools of computer generated art, becoming one of the premier talents in this sphere. Today, Danial James creates award-winning visual solutions for a wide array of national and international clients.
He combines the skill and creativity of traditional illustration with state-of-the-art digital techniques and now has moved into the world of fine art. He is expressing his love for the history of vintage automotive's in his oil paintings.
LOVELL PHOTOGRAPHY
Buck Lovell began photographing motorcycles professionally in 1978. His first published article featured a 1941 Crocker motorcycle restored by the late Stan Dishong. It can be seen in a 1979 issue of Iron Horse Magazine.
Around the same time, Buck was also photographing wildlife for the Environmental Education Center of the recently founded San Francisco Bay National Wildlife Refuge. His award winning photography is still being used in various educational programs.
Buck and his wife, Traci met in Northern California in the late 1980's and discovered their shared love for American motorcycles, animals, and photography. After they relocated to Sturgis, South Dakota, Buck became the Editor of American Bagger Magazine and American Cycle Magazine. Buck and Traci began to photograph local wildlife and scenery in The Black Hills, using a 300mm f4, and 500mm f4 telephoto lens.
Buck prefers hunting with a camera than a firearm. He says, "I can't eat the deer and buffalo seen in my photos, but I can enjoy the images for a lifetime!"
TODD JACOBS
"I started enjoying art early on as a teenager.  I loved doing portraits with pen and ink and eventually grew interested in learning how to paint.
After high school, I pursued an education at Ringling School of Art and Design where I received my Bachelor's Degree in Fine Arts.  After I  graduated college in 2007, I wrote a hand-written letter to my uncle, Scott asking for an opportunity to move to California and work for him to learn more about art.
After receiving the letter, he called and offered me a life-changing opportunity to work under him and be able to learn from one of the most amazing artists of our time. This was the moment my artistic journey really took off.
Working for Scott has been such a blessing.  I have learned techniques that I wouldn't have learned anywhere else. Having Scott as my mentor and critic has helped me refine my craft to a professional degree. I spend my days working as Scott's right-hand man in Historic Deadwood, South Dakota alongside my family and trusted Cocker Spaniel, Casanova.  I spend my nights with my loving wife, Noelle and our unborn baby that's expected in February 2018.
I look forward to growing my name in the art world while always looking for places where I can perfect my craft."
670 Main Street
Deadwood , SD 57732