Historic Street Shows & Stagecoach – Main Street Deadwood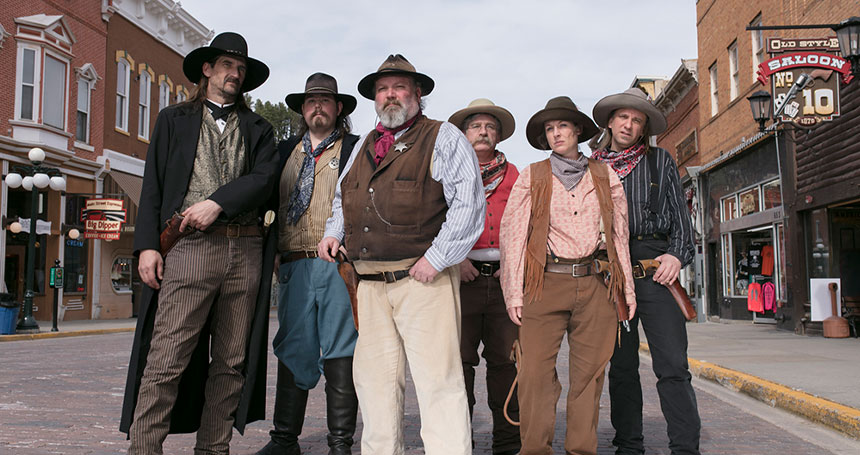 Deadwood Alive's re-enactment troupe offers History at its finest…and most fun!
Deadwood – True West Magazine's "Best Old West Gunfighter Town"
The Deadwood Alive troupe is here to entertain. From Main Street Deadwood shootouts to guided walking tours, there's something for all guests to enjoy, year-round. Read on for more info!
FALL SCHEDULE 2022*
Fridays & Saturdays Only • October 7 – November 19, 2022
12:00 –

"Lawman's Patrol" Walking Tour $15/person Call 1-800-344-8826 to book this tour. Must book 24 hours in advance.

1:00 –

"Tales and Tails" -"Black Hills Bravado, Bandits and Boogeymen" or "Critter Crate" – Mustang Sally's

2:00 –

SHOOTOUT – "A Shooting Affray" – Outlaw Square

2:30 –

"Gold Guns and Grubstake" (the evolution of pre-1899 firearms) – Mustang Sally's

4:00 –

SHOOTOUT – "Showdown on Gold Street" – Outlaw Square Stage

4:20 –

"Hangin' with the Shootists" (meet the gunslingers, ask questions and take photos) – Outlaw Square
*Schedule may be altered for special events. Black out dates will apply. Additional schedule details can be found HERE.
Deadwood Alive will return with free Main Street shows Summer 2023
ADMISSION FOR THE TRIAL OF JACK McCALL:
The Trial of Jack McCall is seasonal and returns May of 2023! The Trial operates Monday through Saturday during Peak Season.
Online and phone (800-344-8826) purchases must be made a minimum of 24 hours in advance.  Tickets are also available day-of at the door before the show or on Historic Main Street from the Information Chuckwagon.
For more information email andy@deadwoodalive.com.
*Schedule may be altered for special events.
***CHANGES WILL OCCUR DURING SPECIAL EVENTS CITYWIDE AND AT OUTLAW SQUARE***
Gold Street performances are sponsored in part by Do Deadwood Properties. CLICK HERE to book your stay.

715 Main Street
Deadwood, SD 57732