George S. Mickelson Trailhead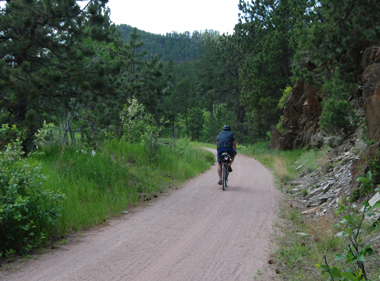 The George S. Mickelson Trail, in the heart of the beautiful Black Hills, was completed in September of 1998. It starts right here in Deadwood and its 109 miles of gentle slopes and easy access allow people of all ages and abilities to enjoy the beauty of the Black Hills.
There are more than 100 converted railroad bridges and four hard rock tunnels along the trail. Much of the trail passes through National Forest Land, but there are parts of the trail that pass through privately owned land, where trail use is restricted to the trail only.
It is vital to the future of the trail that users respect the land and others on the trail.
Website: http://gfp.sd.gov/state-parks/directory/mickelson-trail/
Fees: $4 daily trail pass or $15 annual pass – See more at: http://gfp.sd.gov/state-parks/directory/mickelson-trail/#sthash.ZGHXrsy0.dpuf
Black Hills Trail Office 11361 Nevada Gulch Rd
Lead, SD 57754