Cheers! Enjoy a taste of the Black Hills at Deadwood's Craft Beer Fest!

April 26, 2019 - April 27, 2019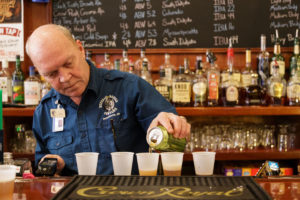 Craft beer lovers will enjoy Deadwood's finest at this festival. Enjoy craft beer paired with samples of unique bacon dishes on April 26 – 27, 2019. Ticket holders receive an event pass, tasting card, schedule and an open container cup. Once the event begins, attendees taste at locations on that day's schedule during designated hours. Tickets are valid for both Friday and Saturday. Last year the event boasted 30 tasting locations over the course of the weekend. That's 60 types of beer and 18 bacon samples! A similar amount is expected for 2019. The list of craft brews served at each business will be available soon.
 ONLY 500 TICKETS WILL BE SOLD. MUST BE 21.
AGE WILL BE VERIFIED AT REGISTRATION.
Tickets are purchased online or at registration (while supplies last). All ticket holders must come through registration at the Deadwood Welcome Center to pick up items and be age verified. You cannot pick up credentials for others in your party that are not present. Registration will be 4-8pm on Friday, April 26 and noon-3pm on Saturday, April 27.
Tasting Hours:
Friday, April 26: 5-10pm
Saturday, April 27: noon-6pm
Friday's Tasting Menu:
Paddy O'Neill's*: Magner's Irish Cider & Uinta Baba Organic Black Lager
Nugget Saloon*: Lost Cabin Bruce Banner & Black Tooth Saddle Bronc Brown
Deadwood Tobacco: Lost Cabin Smoke Wagon Stout & Lost Cabin Lord Grizzly
Bullock Hotel*: Sammuel Adams Sam 76 & Sammuel Adams Rebel IPA
Mustang Sally's*: Melvin 2×4 Double IPA
Deadwood Social Club*: Alaskan White & Knuckle Fear No Dark
Buffalo*: Odell Rupture & Odell Drumroll
Gold Dust*: Dogfish Head American Beauty Pale Ale & Bell's Oberon Wheat Ale
Elk's Club: Sierra Nevada Hop Bullet & Sierra Nevada Torpedo
His and Hers Ale House*: Bolo Wild West Wheat & Alaskan Cranberry Tart
Franklin*: Crow Peak 5.7 Decade IPA & Crow Peak Wirey Scott
Hickok's Hotel: Big Sky Summer Honey & Big Sky IPA
Deadwood Custom Cycles: Schell Firebrick & Schell Keller Pils
Iron Horse: Breckenridge Brewing Avalanche & Breckenridge Brewing Vanilla Porter
*BACON LOCATION!
Saturday's Tasting Menu:
Cadillac Jacks*: Lost Cabin So-Dank IPA & Boulevard Tank 7
Main Street Deadwood Gulch: Boulevard KC Pilsner & Boulevard Unfiltered Wheat
Mineral Palace*: Shiner Bock & Crow Peak Pile o Dirt Porter
Eagle Steakhouse*: Kona Big Wave Golden Ale & Deschutes Fresh Squeezed IPA
Oyster Bay*: Pseudo Sue & South Dakota Sunset Guava Pineapple Sour
Wild Bill Bar: Fernson Wagon Plane Porter & Fernson Curio
Happy Days: Knuckle Head Red & Crow Peak 11th Hour IPA
Saloon 10*: Boulevard Space Camper IPA & Golden Road Mango Cart Wheat
Madame Peacock's: Lagunitas IPA & Lagunitas Mozango
Bodega: Odell Sippin' Pretty & Odell Myrcenery
Bloody Nose Saloon*: Yellow Belly Barrel Aged Cider & Surly Sleek IPA
Sick N Twisted: 2 Special Sick 'n Twisted Ales
Silverado*: Crow Peak Red Water & Crow Peak Mjollnir
Martin Mason*: Montana Red & Montana Tea
Deadwood Dick's Baja Grill*: Bells Amber & Bells Lager
Mind Blown Studio*: Dogfish Head Super Eight & Melvin 2×4 DIPA
Deadwood Mountain Grand*: Oskar Blues Wild Basin Classic Lime Hard Seltzer & Dogfish Head Super 8 Gose
*BACON LOCATION!