Enjoy a taste of the Black Hills at Deadwood's Craft Beer Fest!

September 24, 2021 - September 25, 2021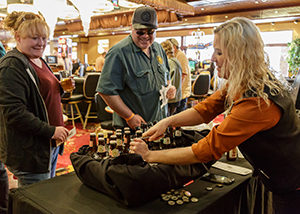 Hops & Hogs: Craft Beer Fest
Craft beer lovers will enjoy Deadwood's finest at this festival. Enjoy craft beer paired with samples of unique bacon dishes on September 24 & 25, 2021. Ticket holders receive an event pass, tasting card, schedule and an open container cup. Once the event begins, attendees taste at locations on that day's schedule during designated hours. Tickets are valid for both Friday and Saturday. The list of craft brews served at each business will be listed below!
CAUTION: Tickets for this event are only available through Deadwood.com or by calling 1-800-344-8826. There are no "real" third party vendors or resellers for this event. Attempting to sell fake tickets to an event is a very common online scam.
MUST BE 21.
AGE WILL BE VERIFIED AT REGISTRATION.
All ticket holders must come through registration at the Deadwood Welcome Center (501 Main St) to pick up items and be age verified. You cannot pick up credentials for others in your party that are not present. Registration will be 4 – 8 p.m. on Friday, September 24 and noon – 3 p.m. on Saturday, September 25.
Open Container Times:
Friday, September 24: 5 – 10 p.m.
Saturday, September 25: Noon – 10 p.m.
Tasting Hours:
Friday, September 24: 5 – 10 p.m.
Saturday, September 25: Noon – 6 p.m.
Tasting Locations and their samplings TBA!
This event is sponsored in part by: