28th Annual Deadwood Jam Outdoor Music Festival

September 14, 2018 - September 15, 2018
Deadwood Jam tickets are on sale now! Get your 2 day pass for $65. Friday Tickets are $25 and Saturday Tickets are $45. Tickets are available for purchase at the gate. Cash discount available.
Get here early for the 2nd Annual Art and Jam Auction at the Deadwood Mountain Grand from 6 – 10 p.m. with live music by Crow. Food and beverages will be on hand. Jam ticket holders and Veterans get in free, all others should pay the suggested $10 donation.
Set Times:
*all times subject to change
Thursday:
Jam n Arts Auction
Crow at 8 p.m.
Friday:
3:30 – doors open
5:30 – El Dub
6:45 – Lunar Funk Theory
8:30 – The Big Wu
Saturday :
Noon – Camp Comfort
1:00 – Horseshoes & Hand Grenades
2:20 – Larkin Poe
3:45 – Joey Molland of Badfinger
5:10 – Reverend Horton Heat
6:45 – Magic Giant
8:30 – Here Come the Mummies
While you are in town for the Deadwood for the Jam, come test your endurance and exercise your patriotism at the Black Hills Veterans March and Marathon!  This 16 Mile Mini March or 26.2 Mile March/Marathon starts Saturday Morning and finishes at the Rodeo grounds before the MUSIC starts!  If you are going to the Jam and want to sign up use the code BHVMMJAM2018 to get $5.00 off your registration fee.  We will see you at the MARCH!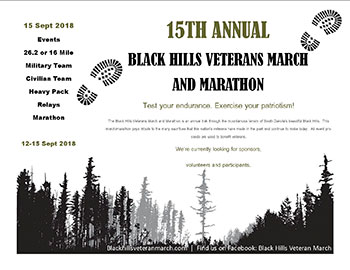 *In the event of inclement weather, the Jam will be moved into the Deadwood Mountain Grand, 1906 Deadwood Mountain Drive.
Thursday, September 13: 2nd Annual Art and Jam Auction
Benefit concert and auction, free for Jam ticket holders and veterans
---
Friday, September 14:
                                                     El Dub                                            Lunar Funk Theory                                                     The Big Wu
---
Saturday, September 15:
                                         Camp Comfort                                     Horseshoes & Hand Grenades                     Joey Molland's Badfinger
                                             Larkin Poe                                               Reverend Horton Heat                                         Magic Giant
          Here Come the Mummies
---

Deadwood Jam History
The Black Hills' premier musical festival since its inception 20+ years ago. The Deadwood Jam stage has featured a variety of leading musical acts, including Collective Soul, Blood, Sweat & Tears, Atlanta Rhythm Section, The Wallflowers, Robert Randolph and the Family Band, Alison Krauss, Mat Kearney, Fastball, Rocco DeLucca, The Young Dubliners, Robert Cray, Big & Rich, George Clinton, Koko Taylor, The Grass Roots, April Wine, Filter, Lit, The Nitty Gritty Dirt Band and many, many others. Each year, the Deadwood Jam brings a wide array of top musical talent to the Black Hills from celebrated acts to newcomers, rising stars and local talent.
Scroll down for a detailed schedule of events.