Forks, Corks & Kegs Food and Wine Festival in Deadwood, South Dakota

April 9, 2021 - April 10, 2021
THIS EVENT IS SOLD OUT
FORKS CORKS & KEGS: April 9 & 10, 2021
If you love fine food, wine and distinctive brews, don't miss the 8th annual Forks Corks & Kegs: Food, Wine and Beer Festival, April 9 & 10, 2021 in Historic Deadwood. Sample a variety of beer and wine from all across the country, along with your Black Hills favorites as you make your way to various tasting venues throughout Deadwood. Each location will feature their chef's finest culinary creation paired with the perfect complimentary beverage. Then head to the Grand Tasting, which features dozens of beer & wine varieties, and light hors d'oeuvres. *Must be 21 to participate.* Tickets are limited!
Forks, Corks & Kegs Festival Pass (April 9 & 10, 2021)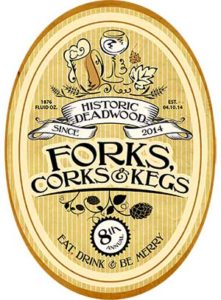 Standard Festival Passes Include: Commemorative Glassware; Trolley Transportation (within City limits); Wine Tastings; Deadwood Appetizer Crawl; Deadwood Dine Around; and the Grand Tasting.
Forks, Corks and Kegs is an open container event. Beer and wine ONLY are allowed in our City approved clear Deadwood Chamber Cups. Absolutely no other container with alcohol will be allowed on the street. This will be strictly enforced! Open container times for 2021 are pending City Commission approval. All open containers must stay within the designated zones which are clearly marked by the Open Container Zone signs.
Festival pass holders ride the trolley for free during the event. For free rides you must have completed event registration and display our festival pass lanyard to the driver. No beverages or food are allowed on the Trolley.
What does my Forks, Corks and Kegs ticket include?
All food and wine tastings, including: Wine Around, Appetizer Crawl, Deadwood Dine Around, and the Grand Tasting. Passes also include an event guide, trolley rides on Friday & Saturday (must show your event lanyard received at registration) and a commemorative glass (picked up at the Grand Tasting).
What is a VIP ticket?
SORRY! VIP tickets are sold out for 2021.
A VIP ticket is an exclusive pass includes all the same food tastings, trolley rides and commemorative glassware as a regular ticket, but with significantly upgraded wine tastings. During the Wine Around on Friday, VIPs-Only will have a private high-end wine tasting. VIPs are also welcomed to the Grand Tasting (Saturday) 30 minutes early via private entrance. Their tickets include complimentary access to the Reserve Room (high-end wines) at the Grand Tasting.
DETAILED SCHEDULE OF EVENTS:
**ALL TICKET HOLDERS MUST COME THROUGH REGISTRATION**
CLICK HERE for a detailed 2021 event guide with menus!
April 9th (FRIDAY)
2PM – 8PM – Event Registration – Pickup your Festival Pass lanyard (your pass to all the weekend's events and trolley transportation), event guide and welcome packet in the main lobby of  Deadwood Mountain Grand.
5PM – 7PM – Wine Around Deadwood* – Locations around Deadwood each host a different vineyard. A representative from the vineyard will be on hand to answer questions about their most popular wines while providing profile and pairing advice to attendees.
8PM – 10PM – Appetizer Crawl* – Sample bite-sized masterpieces, each paired with a wine or beer sample, created by local chefs at their respective restaurants.
April 10th (SATURDAY)
9AM – 12PM – Event Registration
11AM – 3PM – Deadwood Dine Around* – Stop at many Deadwood locations throughout the afternoon for the Deadwood Dine Around. Local chefs prepare samples of their favorite dishes paired with beverages.
4PM – 6PM – Grand Tasting –  Pick up your 2021 commemorative glassware upon entering Deadwood Mountain Grand's Event Center, it's the perfect accessory for sampling dozens of top choices from participating wineries, breweries and specialty vendors, all in one location. The event features music and light hors d'oeuvres.
Ticket Information
Ticket Sales Start:
December 17, 2020
Ticket Information:
Buy Tickets through TicketMaster at https://www.ticketmaster.com/forks-corks-kegs-festival-deadwood-south-dakota-04-09-2021/event/1E00598B94300B37