October 31, 2020 - October 31, 2020
Trunk-or-Treat in Deadwood!
Enjoy family-friendly trick or treating in Deadwood on Saturday, October 31 outdoors at the Days of '76 Event Complex!
All are welcome! Treats from trunks of vehicles will be served from 3 p.m. to 5 p.m.
Families can come to walk up to each vehicle or stay in the car and have treats brought to your vehicle.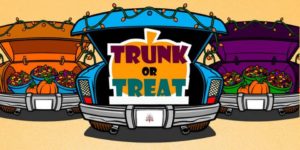 Event Contact Information
Phone:
6055781876