WILD BILL DAYS 2024

June 13, 2024 - June 15, 2024
Wild Bill Days, June 13-15, 2024
Celebrate the life and times of Deadwood's most famous gunslinger—Wild Bill Hickok at Wild Bill Days. See your favorite bands perform live concerts on Main Street all weekend long. Outlaw Square will host a free kick-off concert on Thursday, June 13. The music moves to Main Street on Friday, June 14 and Saturday, June 15. Bands will be announced in early 2024. Along with the awesome free concerts, you can also check out the National Dock Dogs Competition, watch (or participate in) a classic car auction, learn the tricks of gold panning and sluicing from Northern Hills Prospectors, right on Main Street! Book Your Room Today! Call 1-800-999-1876 for more information. ** All times are subject to change due to weather or technical issues. Thank you for understanding.
LIVE MUSIC SCHEDULE
Thursday, June 13
8 p.m.: TBD – At Outlaw Square
Friday, June 14 – Main Street Stage
5 p.m.: TBD
6:15 p.m.: TBD
8 p.m.: TBD
Saturday, June 15 – Main Street Stage
2 p.m.: Trial of Jack McCall
3 p.m.: TBD
4 :15 p.m.: TBD
5:30 p.m.: TBD
6:45 p.m.: TBD
8:00 p.m: TBD
Open Container Times: Thursday 5-10pm, Friday Noon-10pm,Saturday Noon-10pm PENDING CITY COMMISSION APPROVAL • In Official Cups Only • Only in Designated Areas
---
DockDog Competition
Wild Bill Days has something for all tastes and ages – and something for the dogs! National DockDogs Competition will be back for its 16th year! Call (330) 241-4975 or email dd_admin@dockdogs.com for more info. This event is FREE to watch and located in front of the Historic Franklin Hotel. Registration and practice at 10am Friday and Saturday. Events include Big Air and Speed Retrieval. Competitions begin every 1.5 hour starting at 11am.
---
Deadwood Alive Performances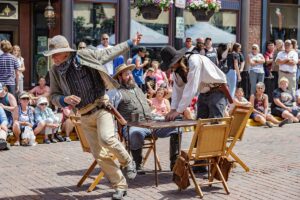 The Trial of Jack McCall is performed for free at 2:00 p.m., Saturday, June 15 on the Main Street stage during Wild Bill Days! Deadwood's famous (and FREE!) shootout schedule is subject to change during this event.
*Deadwood Alive Schedule For Wild Bill Days*
Thursday, June 13: Deadwood Alive will be having shootouts in front of the Gold Dust Casino at regular times. All other shows will be held on Gold Street.
The Trial and Capture of Jack McCall will be as usual on Thursday night of Wild Bill Days.
Friday, June 14: 2:00 p.m. – Shootout at Outlaw Square
Saturday, June 15: 2:00 p.m. The Trial of Jack McCall on Main Stage located on Historic Main during Wild Bill Days
---
Gold Panning & Sluicing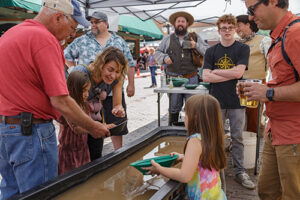 Learn to gold pan and sluice on Historic Main Street! Northern Hills Prospectors of Lead-Deadwood provide lessons for free, from 10am to 5pm on both Friday and Saturday, June 14 & 15. You can even pan "pay dirt" for a fee!
---
Wild Bill Days Collector Car & Memorabilia Auction
Saturday, June 15 beginning at 10am
This 10th annual auction is held inside Deadwood Mt. Grand's event center. McPherson Auction is planning to sell nearly 75 high quality and unique classic cars and memorabilia! Do you have a car you'd like to list? Contact McPherson Auction & Realty at 605-348-1369. Classic Car Auction check-in is from noon to 5pm on Friday in Deadwood Mountain Grand's event center.
  www.mcphersonauction.com (info) or CLICK HERE to register a car.
---
Deadwood History Programming
Information will be announced soon.
---
Wild Deadwood Reads
Love to read?
Come to the 7th Annual Wild Deadwood Reads book fair at The Lodge at Deadwood on June 15th from 10 am to 3 pm! In attendance will be more than 80 authors from all over the country, including bestselling and award-winning authors of every genre—romance, historical, Christian, children's, mystery, thrillers, Western, non-fiction and more. You will be able to find something for everyone in the family to enjoy.
There will be numerous giveaways and prizes.
Admittance is FREE, so bring the whole family and find your new favorite books and authors.
---
Midnight Cowboy Run
10pm or 11pm: Deadwood's 10th Annual Deadwood Midnight Cowboy Run 5K – two start times available. Midnight Cowboy Run is the newest, most eye dazzling, and illuminating night fun run/walk. This is an un-timed run/walk that is approximately 3 miles. Runners and walkers of all speeds and experience are welcomed. Participants start late Friday night at the edge of Historic Deadwood on the Mickelson Trial which is part of the rails to trails project in our beautiful Black Hills!
More info, schedule, and registration will be announced soon.
---
Citywide Yard and Garage Sales in Deadwood, Lead and Central City
Information will be announced soon.
---
Wiem, Wine, and Cheese
Information will be announced soon.