June 8, 2019 - June 8, 2019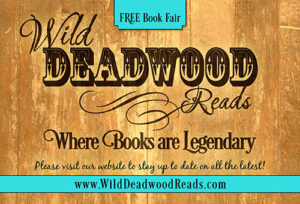 FREE BOOK FAIR – Saturday, JUNE 8: Wild Deadwood Reads is a multi-genre book signing. Many are New Year Times bestselling authors of romance, suspense, historical, and children's books. With over 50 authors planning to attend from around the country, read­ers and attendees expect to meet old favorites and discover new ones.
Admission to the book signing is free and the hours are 10 a.m. to 3 p.m. Volunteers from the Black Hills Wild Horse sanctuary will be selling tickets to raffle basket that will benefit the horse at the sanctuary. Many authors will have giveaways, prizes, and swag at their tables.
Ticket Information
Ticket Sales Start:
February 9, 2019
Event Contact Information
Name:
Ginger Ring
Email:
Ginger@GingerRing.com