Diamond Lil's Sports Bar and Grill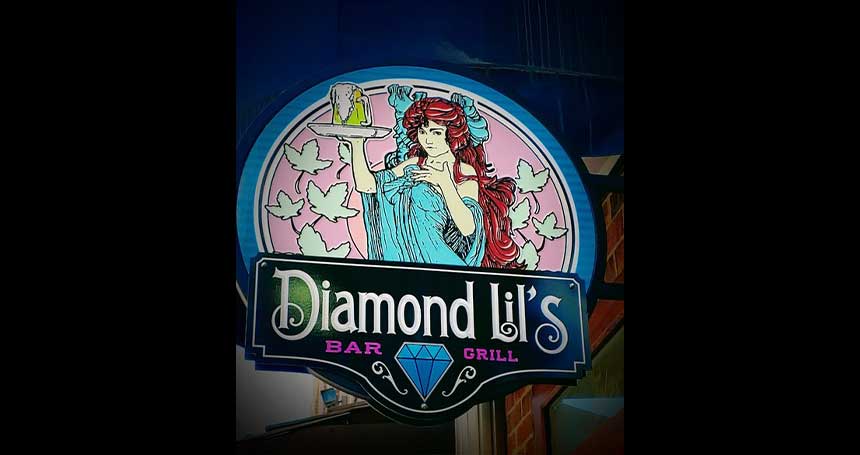 DIAMOND LIL'S SPORTS BAR & GRILL
Diamond Lil's Sports Bar and Grill is now open 7 days a week. Lil's is open:
11:00 AM – 9:00 PM Monday thru Thursday
11:00 AM – 10:00 PM Friday, Saturday and Sunday
Diamond Lil's Bar & Grill is located on the third floor of the Midnight Star and is accessible via the Midnight Star's elevator located next to the Star Bar in the Casino or using the staircase up to the Casino mezzanine floor and then up to the restaurant. Lil's has its own entrance and stairs that take you directly to the third floor without having to go through the Casino's main floor.
Rumor has it that Diamond Lil's was named for Kevin Costner's grandmother who was reputed to have been a bootlegger during the prohibition era. Another famous Diamond Lil owned the Red Dog Saloon in Skagway, Alaska and actually had diamonds in her teeth. Perhaps the most famous Diamond Lil's was the one Mae West famously portrayed on Broadway in New York City in the early 19 hundreds.
Diamond Lil's offers a unique menu in a casual, sports bar setting with multiple television sets decorating the walls for comfortable sports viewing. Even with the television sets, Diamond Lil's décor and setting is reminiscent of old, historic Deadwood with it long bar and great views of Deadwood from its windows overlooking historic Main Street.
Diamond Lil's entrees include Dakota steak tips, certified angus beef ribeye, grilled salmon, and chicken tenders. Burgers and sandwiches include: ½-lb. certified Angus beef burger and cod fillet sandwich. Salads include chicken bacon ranch salad or Cajun chicken Caesar salad. Appetizers include onion rings, chicken wings, cheese curds, jalapeno poppers, chicken poblano quesadilla, and a crowd pleaser combo. Kids' and dessert menus are also available.
677 Main St.
Deadwood, SD 57732