Infamous Deadwood: Colorado Charlie Utter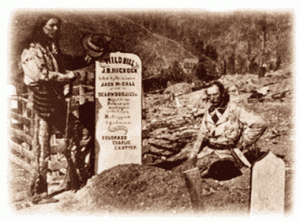 Charles Utter was a trapper, guide and prospector in the gold fields of Colorado before organizing a 30-wagon wagon train to Deadwood in Dakota Territory. Utter's wagon train stopped in Wyoming and picked up passengers, among them Wild Bill Hickok, Calamity Jane, Madam Mustache, Dirty Em and their working girls.
Once arriving in Deadwood, Utter started up an express delivery service to Cheyenne, Wyoming. He and Wild Bill Hickok became close friends and when Hickok was killed while playing poker, Utter is the one who claimed the body and held a public funeral for the gunfighter.
Shortly after Hickok's death, Charlie Utter headed back to Colorado in search of new opportunities. He returned a few years later to oversee the relocation of Wild Bill's body to its final resting place in Mount Moriah Cemetery.