Infamous Deadwood: W.E. Adams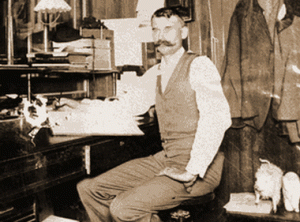 W.E. Adams made his fortune in Deadwood, not by mining for gold, but by mining for miners and their riches. Seeing an opportunity to capitalize on the new wealth of the boomtown, Adams and his brother opened the Adams Brothers Banner Grocery on Main Street in 1877. A few years later the store, and most of the town, burned to the ground.  But the brother's rebuilt a bigger and better store.
Adams was a well-respected business and community leader serving on several civic boards and the Chamber of Commerce. Adams and his wife lived in an elegant Queen Anne-style mansion that showcased their great success and wealth.  After Mr. Adams died, the house stood vacant for nearly a century, with all the furnishings in place – there were even cookies left in the cookie jar.  The house has since been restored and now offers visitors daily tours.