Deadwood's Wild Bill Me Selfie Contest. Grab your camera and fire away! (Sorry, Bill)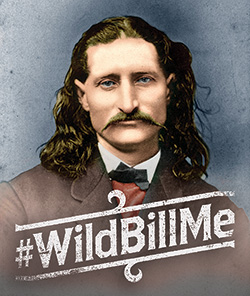 Wild Bill Hickok remains Deadwood's most famous resident, even though he was only in town a few short weeks — and he's been dead since 1876. You'll find his likeness all over Historic Deadwood – reenactors, photos, paintings, statues, signs, life-size cutouts and more.
Now you can explore that history through a fun, new game! #WildBillMe is a selfie treasure hunt in Historic Deadwood (and the surrounding area). Find Bill (any likeness will do) and take a selfie with him.
Claim Your Prize
Bring your phone or camera into one of Deadwood's Visitor Centers (501 Main Street or 3 Siever Street) and show us your #WildBillMe selfie collection.
10 selfies wins a #WildBillMe sticker; 15 and you'll get a magnet; 25 Wild Bills and we'll add $5 in Deadwood Gold Bucks redeemable at over 30 locations in Deadwood, to the first two prizes.
You can only count each Bill once, but trust us, it won't be that hard. Bill is EVERYWHERE in Deadwood, you just need to explore a little to find him!
Program Support Provided By: