Historic Street Shows & Stagecoach – Main Street Deadwood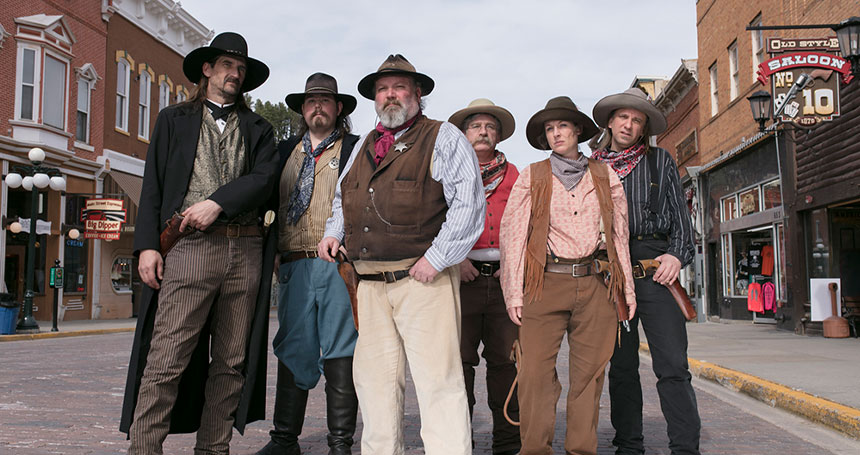 History at its finest…and most fun!
Deadwood – True West Magazine's "Best Old West Gunfighter Town"
The Deadwood Alive troupe is here to entertain. From Main Street Deadwood shootouts to guided walking tours, there's something for all guests to enjoy, year-round. Read on for more info!
DEADWOOD ALIVE
HISTORIC MAIN STREET, DEADWOOD
FREE SHOWS!
Fall season is October 1 – November 20, 2021
FALL SCHEDULE 2021*
12:00PM – "Lawman's Patrol" – Walking Tour $15/person Call 1-800-344-8826 to book this
tour. Must book 24 hours in advance.
1:00PM – "Gold, Guns and Grubstake" – (the evolution of pre-1900 firearms) – Outlaw Square Gazebo
2:00PM – SHOOTOUT – "A Shooting Affray" – Outlaw Square Stage
3:00PM – "Black Hills Bravado, Bandits and Boogeymen" – Hear true tales of old Deadwood and meet some of its interesting characters – Outlaw Square
4:00PM – SHOOTOUT – "Showdown on Gold Street" – Outlaw Square
4:20PM – "Hangin' with the Shootists" – (meet the gunslingers, ask questions and get their
autographs) – Outlaw Square
For more information email andy@deadwoodalive.com.
*Schedule may be altered for special events.
*TENTATIVE* 2022 SCHEDULE:
Spring Season: Shows on Fridays and Saturdays at Outlaw Square, from March 25, 2022 – May 14, 2022
Street Shows and Trial of Jack McCall: Saturday, May 21, 2022 – Saturday, September 24, 2022
Fall Season: Shows and Fridays and Saturdays, from Friday, October 7 to Saturday, November 19
Stagecoach Rides (stagecoach stop is likely to be the Gazebo at Outlaw Square): Friday, May 20 and Saturday, May 21; Friday, May 27 and Saturday, May 28. Beginning May 31, stagecoach will operate Tuesday-Sunday through September 24
***CHANGES WILL OCCUR DURING SPECIAL EVENTS CITYWIDE AND AT OUTLAW SQUARE***
715 Main Street
Deadwood, SD 57732