Devils Tower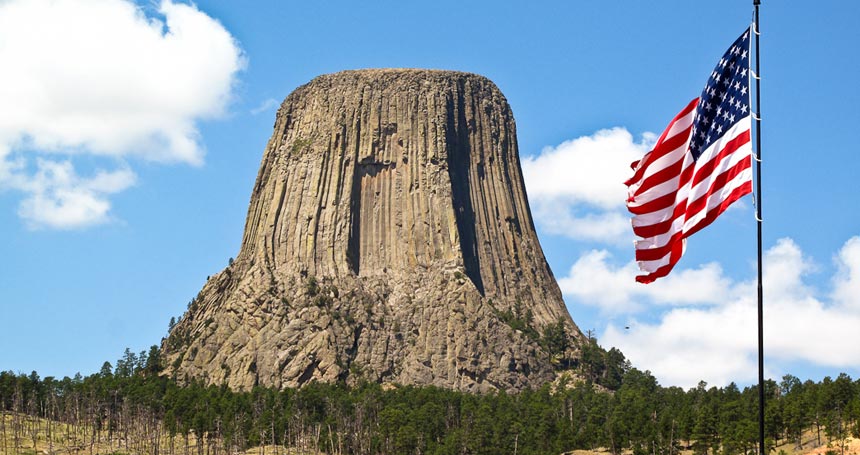 Devil's Tower National Monument, located near Belle Fourche, South Dakota, is a most improbable geological rock formation, sticking up a thousand feet in the air above the surrounding valley like some giant, prehistoric tree-stump. Steven Speilberg used Devil's Tower National Monument as backdrop to his blockbuster movie Close Encounters of the Third Kind.
Yearly, thousands of tourists come to gawk at its unusual shape. President Theodore Roosevelt proclaimed Devils Tower the first national monument in 1906. This nearly vertical monolith rises 1,267 feet above the meandering Belle Fourche River. Once hidden beneath the earth's surface, erosion has stripped away the softer rock layers revealing the hard rock tower below.
Known by several northern plains tribes as Bears Lodge, Devils Tower is a sacred site of worship for many American Indians.
An entrance fee is required to enter Devils Tower. The pass is good for 7 days.
To Celebrate the centennial year of the National Park Service entrance fees will be waived in 2017 on the following days:
January 16 – Martin Luther King, Jr. Day
February 20 – Presidents' Day
April 15-16
April 22-23 – Weekends for National Park Week
August 25 – National Park Service Birthday
September 30 – National Public Lands Day
November 11-12 – Veterans Day Weekend
The monument offers a visitor center with displays, a small bookstore, ranger led programs and several trails. The most popular trail is 1.4 miles long, is paved, and circled the Tower. Devils Tower is open 24 hours a day, 7 days a week. The visitor center is open early April through late November (weather permitting). The visitor center is open Memorial Day through Labor Day from 8:00 a.m. – 7:00 p.m. After Labor Day, hours change to 9:00 a.m. – 5:00 p.m (weather permitting)
Park is open 24 hours per day
Visitor Center Closes at 7pm during the peak.
Highway 110, Building 170
Devils Tower, Wy, SD 82714