Dakota Sky Stone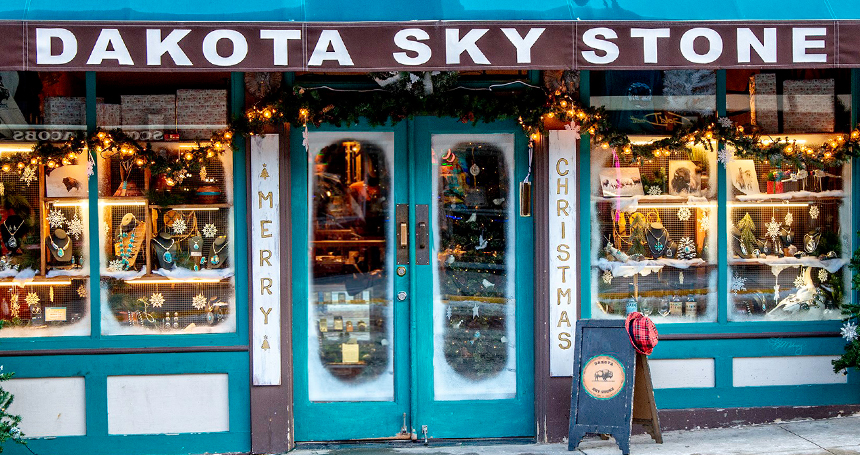 Family owned since 1971.  Our family takes pride working direct with Native American Artist and turquoise mines bringing the highest quality and lowest prices of Native American Turquoise Jewelry and Art to our customers for 50 years!  Specializing in rare turquoise and One of a kind pieces you will forever treasure. Dakota Sky Stone is 4 generations and started one of our first stores in Deadwood, SD in 1983, where we are still located today at 671 Main St.  We also have a store at 511 Main St Wall, SD and our online store www.dakotaskystone.com.
How Dakota Sky Stone came to be….
Our family business started back in 1971 when Ginny (1st Generation) traveled down to the reservation
and built a friendship with several different tribes and artist. Falling in love with not only the turquoise
but the Native American culture.
With almost 50 years of traveling to the reservations and our family being welcomed into the tribes,
many Native American artist we work with today are the 2nd and 3rd generations of the original artist our
family started with. Our family takes pride in the stones and artistry of our turquoise jewelry by hand selecting
every piece that comes into our stores. We have one of the largest selections of the different mines and
carry some of the rarest turquoise in the Midwest.
By working directly with our artist and turquoise
mines we can guarantee the highest quality and best prices. We guarantee our jewelry, and we have
always said, "you will walk into our stores as a customer and you will leave as our friend".
It's truly amazing how times have changed over the years from a small trinket box that traveled the
reservations with the first generation of our family, to Jim and Nettie the 2nd generation opening the Deadwood store in Historic Deadwood in 1983 then Annie and CJ the 3rd generation of the family that
expanded a store in Wall the Badlands of South Dakota. Looking forward to the future for our family's 4th generation we established a website to share our Native American
jewelry worldwide.
No matter if you find your way into our stores or looking online you will continue to
work with members of our family and receive personal attention, customer service and our passion for
turquoise that we have prided ourselves with for almost 50 years.
Our family hopes to see you along your South Dakota travels!
671 Main St.
Deadwood, SD57732