1899 Inn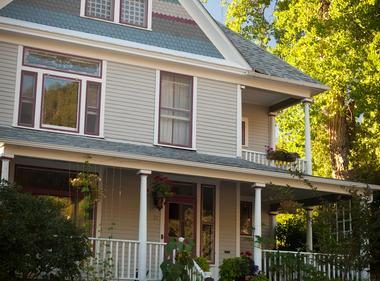 1899 Inn – A Romantic Deadwood Bed and Breakfast Hideaway
A romantic Deadwood Bed and Breakfast hideaway; a unique and intimate guest experience that blends modern amenities and historic charm. The 1899 Inn is Deadwood's only turn-of-the-century inn with full breakfast service, featuring seasonal dishes and artisan bread made daily in-house. The house is located away from the lights and noises of Deadwood's gambling tables, but it's just a five-minute walk to the town's nightlife and major historic sites.
Nearby Amenities:
Mount Moriah Cemetery (just up the street from the 1899 Inn) along with Calamity Jane, Seth Bullock, Madam Dora Dufran and other Western legends. Other sites nearby include:
The Adams House Just a block from the 1899 Inn, the Adams House is a small mansion built in 1892 by a prominent merchant family. Preserved for more than 50 years and beautifully restored, the home is now operated as a museum.
The Mickelson Trail A 114-mile-long hiking and biking trail along the route of a historic railroad, the Mickelson Trail begins in Deadwood and stretches the entire length of the Black Hills.
Mount Roosevelt A short hike to the top of a peak that has views into Wyoming and North Dakota. The summit is crowned with a stone tower erected in 1917 as one of the first memorials to Theodore Roosevelt.
The Adams & Days of '76 Museums. The oldest history museum in the Black Hills, the Adams Museum is a five-minute walk from the 1899 Inn and includes artifacts from Deadwood's early history, including gold mining artifacts, fossils, and art. The Days of '76 Museum is a five-minute drive and has rare Native American artifacts, rodeo exhibits and a large collection of historic firearms in a large new building.
In the News:
The 1899 Inn was featured in Reader's Digest as the "Most Charming B&B in South Dakota" for its amazing views of the Black Hills and Deadwood Gulch and more! Check out the article here.
Deadwood's 1899 Inn receives booking site accolades for 2020:
Deadwood's 1899 Inn earned a perfect 10 out of 10 rating by Hotels.com guests who stayed at the bed-and-breakfast in 2020. Guests who booked through Expedia rated the property an average 4.9 out of 5, and Booking.com guests gave it an average score of 9.7 out of 10. Located on Lincoln Avenue in the historic town's Presidential District, the 1899 Inn offers guests well-appointed rooms with premium beds, antique furnishings from local estates, upscale bathrooms and a luxurious hot breakfast served every morning on vintage china in the Inn's formal dining room. The 1899 Inn is owned and operated by Nyla and Tom Griffith.
21 Lincoln Avenue
Deadwood, SD 57732